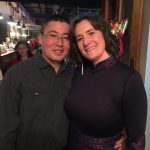 I was a skeptic when it came to love stories. Two and a half years ago I would not have called myself a "romantic." Then Mongolia–and Zorig–happened.
After years in China, I'd given up on finding a mainland Chinese guy. There were still cuties, but I knew that the cultural aspect was mafan (trouble).
I can't really blame you for falling for my Black Ken. You see, we have more in common than you may think: We have great taste in Men.
As 2016 comes to a close, I'd like to salute the top five guest posts on Speaking of China by views.
One of my favorite days of the year is the day I gave birth. Afterwards, little by little we descended into Dante's nine circles of hell.
I shook my husband awake. He took one look at my face, looked at the pregnancy test in my hands and said, "Shit." I burst into tears.
For those considering moving to the East to be with their loved one, you must be aware that the step you are trying to make is a huge one.
I came to China at the age of 26 and already knew about more divorces than I could count. I wasn't impressed with the dating and marriage culture in the UK.
Maria shares how she has embraces many of the food and dining preferences of her husband's family, from soup and fish eyes to toothpicks and white rice.
I think I 'knew' that discrimination does take place, but now I KNOW. As for the Chinese family, I wonder if the husband's mind will ever be opened.