What happens when your husband receives a job offer in China and you decide to follow him? You'll probably become a taitai.
Sometimes the family you discover in China isn't the family you married into. It's the family you create through meaningful connections.
The story of how Zhao, a Chinese student in Finland, fell in love with a Finnish girl and eventually married her.
I cried for hours. Every time I thought about him, my eyes watered and I had to swallow the pain I felt deep in my chest. I know I can only blame myself.
If you happen to be in the less than 4%, you are almost certain to get a question or comment about your interracial relationship.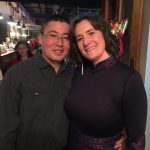 I was a skeptic when it came to love stories. Two and a half years ago I would not have called myself a "romantic." Then Mongolia–and Zorig–happened.
After years in China, I'd given up on finding a mainland Chinese guy. There were still cuties, but I knew that the cultural aspect was mafan (trouble).
I can't really blame you for falling for my Black Ken. You see, we have more in common than you may think: We have great taste in Men.
As 2016 comes to a close, I'd like to salute the top five guest posts on Speaking of China by views.
One of my favorite days of the year is the day I gave birth. Afterwards, little by little we descended into Dante's nine circles of hell.