Among the dark chapters of US history, there was a moment in time where my marriage to Jun, a Chinese citizen, would have cost me my American citizenship.
If you've never heard of Lita (also known as China's cookie queen on WeChat) you're missing out on some heavenly desserts. Especially her pie cookies.
I cried for hours. Every time I thought about him, my eyes watered and I had to swallow the pain I felt deep in my chest. I know I can only blame myself.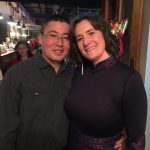 I was a skeptic when it came to love stories. Two and a half years ago I would not have called myself a "romantic." Then Mongolia–and Zorig–happened.
I always used to think you were cool and open-minded. You voted for Obama. You had a terrific downward dog pose. One of your friends was Chinese.
One of my favorite days of the year is the day I gave birth. Afterwards, little by little we descended into Dante's nine circles of hell.
There's a human side to a US lawsuit. It's inevitable that a huge US Federal Court case will ultimately affect you in countless ways, changing your life.
The marriage between Fong See and Letticie "Ticie" Pruett is one of the most important relationships in Lisa See's memoir "On Gold Mountain".
Posted in
AMWF History
| Tagged

America, California, China, Chinatown, Fong See, Letticie Pruett, Letticie See, Lisa See, Los Angeles, On Gold Mountain, Ticie Pruett, Ticie See
It's hard to believe our trip to the US is about to come to a close! We're hopping a plane back to China this coming Monday, September 19. As many of you know, we came here because of my husband's lawsuit (you can learn more about that here). The lawsuit still continues. And I'd be […]
The LA Herald published "Married to Chinamen – White Women Who Accept Mongolian Husbands" in 1892. But hatred, not acceptance, prevails in the piece.