Asian figure skaters from around the world have delivered some incredible moments in figure skating at the 2018 Winter Olympic Games, even making and breaking records.
Posted in
Articles
| Tagged

Alex Shibutani, America, Boyang Jin, Canada, China, Han Cong, Japan, Maia Shibutani, Mirai Nagasu, Nathan Chen, Olympics, Patrick Chan, Shoma Uno, Sui Wenjing, Vincent Zhou, Yuzuru Hanyu
It felt like a total a palm-in-face moment. After all, hadn't he read my CV, which explicitly stated I was an American, in bold letters?
The truth is, there are actually some pretty incredible things about living in China. Things that, on balance, are better than America.
Rude bumper stickers are making headways in China. There's one in particular that has caught my eye – one that's actually rude to the driver's wife.
Sometimes the family you discover in China isn't the family you married into. It's the family you create through meaningful connections.
Among the dark chapters of US history, there was a moment in time where my marriage to Jun, a Chinese citizen, would have cost me my American citizenship.
If you've never heard of Lita (also known as China's cookie queen on WeChat) you're missing out on some heavenly desserts. Especially her pie cookies.
I cried for hours. Every time I thought about him, my eyes watered and I had to swallow the pain I felt deep in my chest. I know I can only blame myself.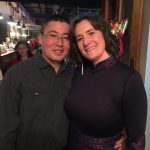 I was a skeptic when it came to love stories. Two and a half years ago I would not have called myself a "romantic." Then Mongolia–and Zorig–happened.
I always used to think you were cool and open-minded. You voted for Obama. You had a terrific downward dog pose. One of your friends was Chinese.