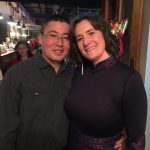 I was a skeptic when it came to love stories. Two and a half years ago I would not have called myself a "romantic." Then Mongolia–and Zorig–happened.
Before I met Jeongsu, the only thing I knew about Korea was that its capital is Seoul. I hadn't even tried Korean food. How was I going to live there?
"Marriage to someone outside my cultural group was one of the hardest and easiest things I've ever done," writes Anne of her marriage to a Taiwanese man.
Once again, Fred believed his Chinese nephew would do anything to have his pick of American women — and tried setting him up during a trip to Hong Kong.
Before Nicki Chen married her Chinese husband, she thought, "We complement each other." But their differences also meant they could learn from each other.
"Lisa" had a seemingly perfect relationship with a Chinese man she met in the US — until their romance unravelled after tragedy struck his family in Texas.
The story of how a shy white Midwestern American girl married a Chinese guy — including one surprising and memorable quote when he revealed his love.
A white American woman goes to China and ends up falling for a guy she considers the Chinese version of Arnold Schwarzenegger.
Longtime readers will recognize the name Sveta, who is one of the most active commenters on this site. She also blogs about her latest reads on her book review blog (where she reviews a variety of books , including titles featuring with Asian men and Western women in love). She shared with me this story […]
Fred believed that any man, even his nephew in Hong Kong, would leap to his death to be able to date not just one or two but three women.
Posted in
Double Happiness
| Tagged

American women, AMWF love stories, China, Chinese family, Chinese guy, Chinese men, Favorites, Hong Kong, love in China, Western women, White women