He checks off literally every fantasy that you dream about in a sexual partner. It was, without a question, the best sex I've ever had.
Among the dark chapters of US history, there was a moment in time where my marriage to Jun, a Chinese citizen, would have cost me my American citizenship.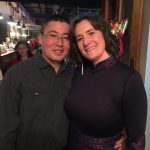 I was a skeptic when it came to love stories. Two and a half years ago I would not have called myself a "romantic." Then Mongolia–and Zorig–happened.
Before I met Jeongsu, the only thing I knew about Korea was that its capital is Seoul. I hadn't even tried Korean food. How was I going to live there?
"Marriage to someone outside my cultural group was one of the hardest and easiest things I've ever done," writes Anne of her marriage to a Taiwanese man.
Once again, Fred believed his Chinese nephew would do anything to have his pick of American women — and tried setting him up during a trip to Hong Kong.
Before Nicki Chen married her Chinese husband, she thought, "We complement each other." But their differences also meant they could learn from each other.
"Lisa" had a seemingly perfect relationship with a Chinese man she met in the US — until their romance unravelled after tragedy struck his family in Texas.
The story of how a shy white Midwestern American girl married a Chinese guy — including one surprising and memorable quote when he revealed his love.
A white American woman goes to China and ends up falling for a guy she considers the Chinese version of Arnold Schwarzenegger.