When you live a lot of your life online like I do, it's easy to make things look perfect. Like, for instance, Chinese New Year. Last year I spent much of the run-up to the holiday posting eye-catching photos of Chinese New Year – from shots of mouth-watering homemade goodies from my mother-in-law's kitchen to handwritten red couplets shining in the winter sunshine.
But here's the thing – it's not all perfect or fun when you actually spend Chinese New Year with the family here. Sometimes, it's even nerve-wracking. So in the spirit of being totally honest about Chinese New Year, here are 4 things that actually make me anxious about spending this year's holiday with family here in China:
1. Firecrackers and fireworks
Confession time – I'm a jumpy person. If you startle or scare me (like, sneaking up on me all of a sudden), I will literally jump!
That's why I'm not exactly the biggest fan of two of the biggest symbols of Chinese New Year: firecrackers and fireworks.
Whenever the family sets them off at our house, it's like they've kicked me into a war zone. I head for the safest corner of the house to duck down and cover my ears, praying it will all be over soon.
Of course, it doesn't help that every Chinese New Year generates a frightening bunch of tabloid-worthy news stories about tragic accidents (including deaths) caused by firecrackers and fireworks, making me even more nervous whenever I hear that great "boom" outside.
If only my husband's family would go for those electronic firecrackers that I heard about on the news in China last year – they have a prerecorded "boom" but none of that destructive or dangerous force.
But I know better — they're traditionalists to the core when it comes to their choice of explosives. Which means I'll have to prepare myself for another year of explosions outside the door – and another year of me nervously crouching in the corner of the house…with my ears plugged.
2. Visiting with relatives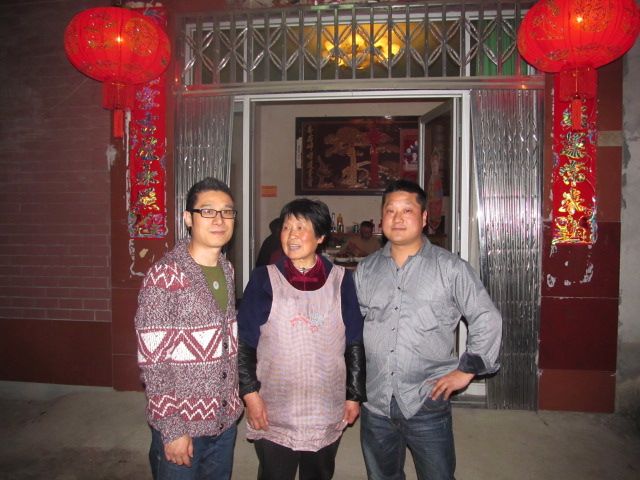 Two years ago I captured the pressure of visiting relatives in a post titled On Bainian — Chinese New Year's Calls — And Those Annoying Questions From Relatives:
The other night, while talking to our close Chinese friend Caroline during Chinese New Year, my husband asked a common question. "Did you go out to bàinián?" Bàinián (拜年), of course, is the tradition of paying new year's calls to your relatives and friends, usually by going over to their homes.

Caroline laughed with embarrassment. "I didn't want to go out, I've stayed at home. People ask too many questions!"

That's because Caroline still hasn't, as they say in Chinese, "solved her personal problem". She's a single Chinese woman in her thirties. And because she's single and well above 30, a sort of unofficial marriage expiration date for young people in China (especially women), her relatives will ask her the bomb of all questions: "Do you have a boyfriend?"

Caroline's not alone in detesting the questions about her personal life. After all, one of the hottest topics trending on Chinese social media in the lead to Chinese New Year was Counter Annoying Chinese New Year Questions From Relatives.

Even I'm not immune to such questioning. John and I still have no children, which makes the questions "Do you have a kid?" or "Are you planning to have a kid soon?" — questions I frequently get from Chinese friends and relatives — sting at times. Of course, my mother-in-law doesn't even bother to ask us; she just simply tells me I'm "too old," which does wonders for my self-esteem! (Not.)
So, since we still don't have a kid, guess what I'm expecting to hear from the relatives this Chinese New Year? Yep. And I'm definitely not thrilled.
3. The pressure to drink
As I wrote the other week, one of my most awkward experiences during Chinese New Year involved watching a relative get so sloppy drunk he became nearly unconscious and vomited on himself. The reason? Because his elders kept pressuring him to drink out of respect for him.
It's really scary when alcohol gets co-opted in China to measure things like filial piety or loyalty. Some of the biggest bullies often end up being some of your closest friends or relatives.
While I'm not too worried about my husband (as I've written before, he regularly uses the excuse of having a foreign wife to get himself a "no alcohol" pass at Chinese New Year) I do fear for the men in the family. Someone already got so drunk last year they needed hospital care, and I witnessed other men collapsed on their beds many an afternoon in a drunken stupor. Sigh.
4. Smokers in the family
Big tobacco must love how China's culture has successfully linked cigarette smoking to masculinity, guaranteeing that pretty much every family in the country includes smokers.
But I'm a rabid nonsmoker who finds secondhand smoke repulsive, so having smokers in my family here in China is another thing to worry about during the holidays.
Last year, it was almost impossible to find a dinner table where someone wasn't lighting up. I experienced some uncomfortable conversations about smoking and often had to steal away from the dinner table because my lungs just couldn't take it.
I'm expecting another round of "dodge the secondhand smoke" this year – and it's definitely not going to be the highlight of my holidays. Ugh.
What worries you about spending the holidays with your family?