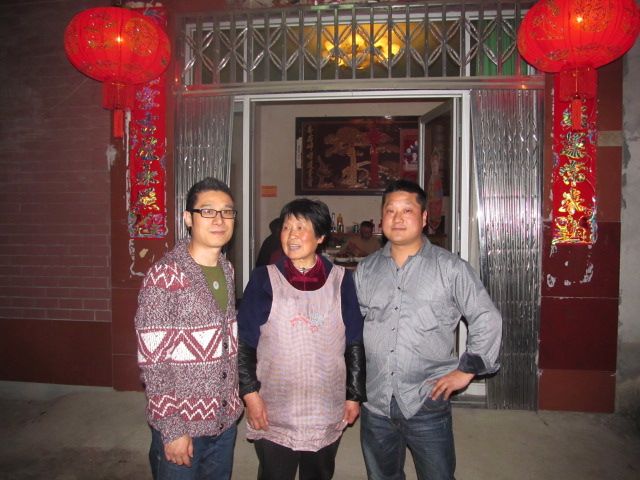 The other night, I could hear those amplified voices through the paper-thin walls in my in-laws home. One of those voices sounded a lot like my husband's; the other surely was his father.
And inside, I shuddered. What were they arguing about? Was something wrong between them?
As the minutes turned into an entire hour, my worries only grew. Because of course, only something really bad could take that long to hash out. The thought of my husband getting into a deep argument with his father made me feel nauseous. I wanted crawl under my covers and pretend this wasn't happening, except nothing could seem to quiet the unsettling noise from next door.
So imagine my surprise when my husband strolls in the door with a satisfied smile and not a trace of tension in his face. How could this be?
"Sweetie, were you arguing next door?" I mentally braced myself for confirmation of my worst suspicions.
"Oh no, I was just talking about finding our ancestors' graves with my dad." He was so nonchalant about it all. As if it was normal to discuss this topic in loud, booming voices.
I breathed out a huge sigh of relief. "Thank god, I was so worried! I could hear you through the walls — I thought you were fighting. And you were gone so long…"
"Don't worry," he said to me, his overreacting wife. (I swear that "Don't worry" is probably one of the top ten common phrases John has to say to me in our relationship, because I'm always misinterpreting things for the worst.)
But it's really easy to make mistakes like this when it comes to conversations between my husband and his family and friends in the countryside. That's because when people talk to each other, even in friendly and congenial ways, it can sometimes sound like an argument to my American ears.
Growing up in the Cleveland, Ohio region, I learned pretty quickly that raising your voice was a sign of anger or disrespect. The times in my life when I heard yelling or loud voices in the house, it invariably meant an argument was in progress. Speaking loudly was just not a good thing.
But here in my husband's rural Hangzhou village, people speak loudly all the time about normal, friendly things. I've watched my aunts and uncles stroll in with their booming voices, discussing how the weather was that day or what their ducks did in the yard. I've heard neighbors, in the most shrill voices I've ever heard, say nice things about my family's home. I've observed family members discuss things they care deeply about – like finding an ancestor's grave – with their vocal volume turned up.
You should see my mother-in-law when she answers the landline at the family home. She invariably speaks to the caller in a tone that you would probably classify as a "yell", yet what she's saying is totally friendly and normal. Have you eaten yet? Come over to visit us.
The funny thing is, I know all of this and yet I forget time and time again. It's as if any loud voice has been permanently branded in my mind as angry and threatening. The fact that I don't always understand everything that's said here – as most people use the local dialect to communicate – only compounds the issue.
Will I ever get used to this? Maybe someday, years from now, after I've spend decades living in China. In the meantime, I'll have to get used to being wrong about this, a lot.
Sometimes, it's really good to be wrong about something. 😉