Every week, the entertainment mags churn out list after list of swoon-worthy celebrity and Hollywood couples. But these couples are almost always white…and I can't remember the last time, if ever, that I've seen a single couple of Asian men and non-Asian women on their lists.
If my Pinterest board with real-life couples of Chinese men and Western women has taught me anything, it's that the community of Asian men and non-Asian women in love is bigger than I ever expected — with plenty of beautiful faces. So it's no surprise that our community includes some stunning celebrities and their equally stunning partners. Don't they deserve a little love for once?
Move over, Brangelina! Here are six dazzling couples that could turn heads on the red carpet, while showing the world how lovely it is when Asian men and non-Asian women get together.
Sandra Denton and Tom Lo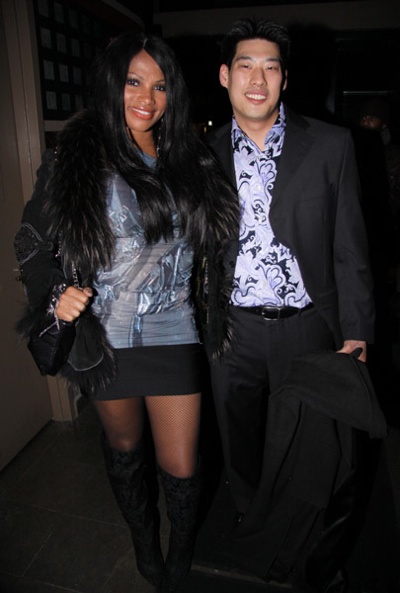 Sandra first rocked our world as "Pepa" from the rap group Salt-N-Pepa, and now she has rocked the interracial dating world by choosing to date Tom Lo (as part of her 2010 reality show Let's Talk About Pep). Was it romance or just reality TV? Are they still a thing? I have no idea. But they sure make one handsome Blasian couple, don't they?
Diane Farr and Seung Yong Chung
Who says that Asian men can't land babelicious former MTV hosts? Seung Yong Chung (who is tall and handsome himself) snagged the lovely actress Diane Farr, best known for her roles on Numb3rs and Rescue Me (as well as a stint hosting MTV's Loveline). Their relationship and marriage became the heart of Diane's outstanding memoir on interracial dating, Kissing Outside the Lines.
Grant Imahara and Jennifer Newman
You know Grant from Mythbusters. Even if he's the geekiest guy on this list (he's one of the official operators for Star Wars' R2-D2 and helped engineer the Energizer Bunny), he looks awesome in a tux and would make my shortlist of hottest electrical engineers any day. Put him together with his lovely blonde girlfriend Jennifer Newman (a self-proclaimed "robot girl") and you have a couple that could turn heads almost anywhere.
Will Yun Lee and Jennifer Birmingham
Actor Will Yun Lee (best known for his TV roles in Witchblade and Bionic Woman and on-screen roles for Die Another Day, Elektra and The Wolverine)  was named one of People's Sexiest Men Alive in 2007. His wife Jennifer Birmingham, a Hollywood actress as well, looks like a natural on the red carpet. Together, they make one stunning AMWF (Asian Male, White Female) couple. If the Academy handed out Oscars for most gorgeous couple in the business, I'm sure these two could nab a nomination!
Julia Stegner and Steven Pan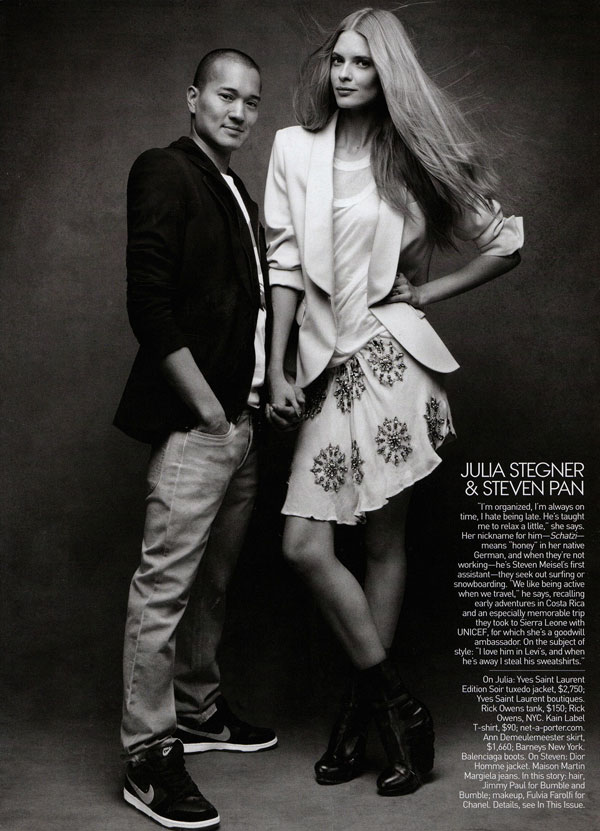 Could this gorgeous German supermodel and her handsome boyfriend Steven (a fashion photographer) make interracial dating between Asian men/non-Asian women a little more "en vogue"? They've already landed in a Vogue spread and could easily rock the magazine's cover. The camera clearly loves them both!
Ilia Calderon and Eugene Jang
Award-winning Colombian journalist Ilia Calderon is the striking anchor for Univision's Noticiero Univision: Edicion Nocturna (so hot, she's listed on the site TV anchor babes) — and also the wife of Eugene Jang, a physical therapist who is quite the looker himself. They fell in love at first sight, and look lovely together on the red carpet!
Who do you think are the most stunning couples of Asian men and non-Asian women? Who would you put on your list?
P.S.: To see more celebrity couples, visit my Pinterest board featuring celebrity couples of Chinese men and Western women.