Three years ago this week, Susan Blumberg-Kason's memoir Good Chinese Wife: A Love Affair With China Gone Wrong was officially published.
For those of you new to the book, here's what I wrote about it three years ago:
Susan Blumberg-Kason's new memoir Good Chinese Wife comes with a revealing subtitle: A Love Affair With China Gone Wrong. Before you even open the book, you already know what kind of love this is – a marriage between a white American woman and a Chinese man that doesn't end well.

But as I've learned over time, there's tremendous value in sharing the stories of couples that didn't work out. That's why I sent out a submission call for stories of love lost and unrequited love. And that's why Good Chinese Wife should be on the reading list of everyone who follows this blog.

I'm calling it the AMWF memoir of 2014 and you shouldn't miss it.

This book has it all. A Chinese love interest with movie-star looks. A romance set in glitzy Hong Kong. A huge red wedding in Wuhan. A fascinating journey across China in the mid-1990s. And a transformative tale of how one shy young woman eventually finds the courage to make a dramatic escape.

But most importantly, Good Chinese Wife is just an incredibly entertaining memoir. It's the kind of book that you'll open, thinking you're only going to read for a little while, and before you know it you've devoured the whole story in one sitting.
When I look back on 2014, witnessing and supporting the launch of Good Chinese Wife was one of the highlights of my summer. It was an honor to help organize the blog tour for this book and kick it off with my interview with Susan.
Over the years, I've followed Susan as she's continued to promote her memoir, from her hometown in Chicago all the way to Hong Kong and beyond.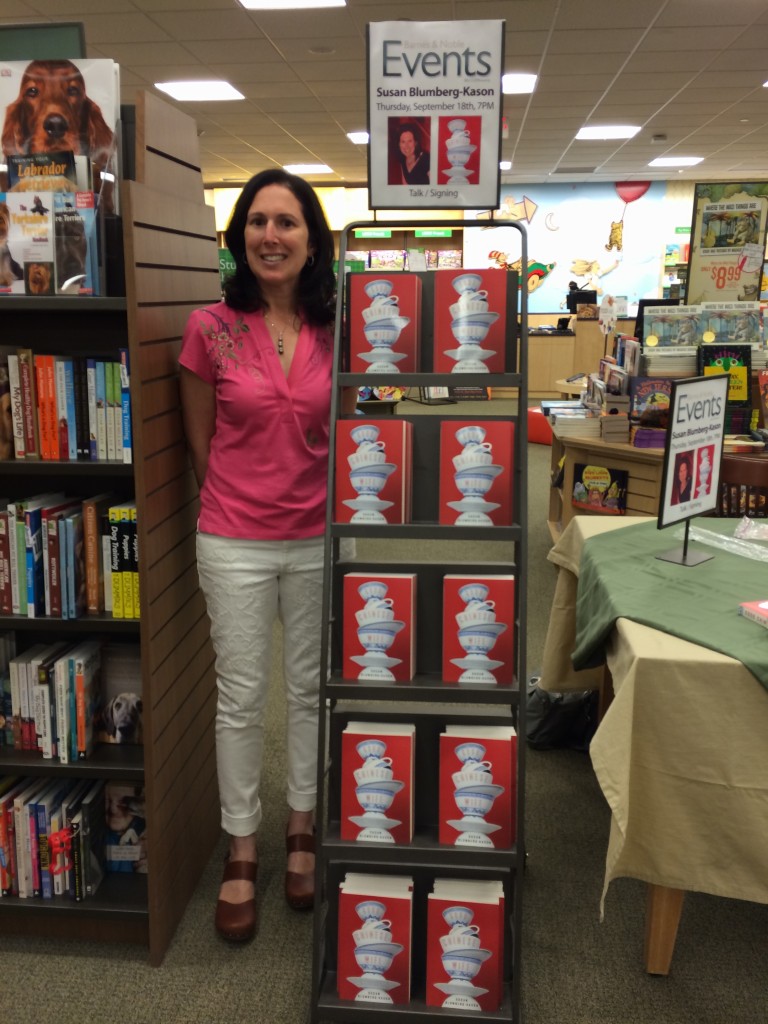 Since the launch, Good Chinese Wife has received an impressive 126 reviews on Amazon, as well as press coverage in major media outlets around the world including The Wall Street Journal, The Chicago Tribune and the South China Morning Post. An Italian edition of Good Chinese Wife also came out in 2016.
So I thought, wouldn't it be interesting to catch up with Susan three years later? To get her perspective on Good Chinese Wife and what's happened since the launch?
It's my great pleasure and honor to once again feature Susan Blumberg-Kason and Good Chinese Wife through this interview.
Here's Susan's bio from Amazon:
Susan Blumberg-Kason is a freelance journalist in Chicago. As a child growing up in suburban Chicago, she dreamed of traveling to China and the then-British colony of Hong Kong. She went on to study Mandarin and complete a master's degree in political science at the Chinese University of Hong Kong. Susan now lives in the Chicago area with her husband, three kids, and a surly cat. Her work has appeared in the Chicago Sun Times, Journal of the American Dietetic Association, and Chicago Parent magazine. She blogs at www.susanbkason.com about travel, books, and teaching her kids about Chinese culture.
You can learn more about Susan Blumberg-Kason and Good Chinese Wife at her blog www.susanbkason.com, and follow her on Twitter at Susan_BK, on Facebook at Susan Blumberg-Kason, and on Instagram at susanbkason. Her memoir Good Chinese Wife is available at Amazon, where your purchases help support this site.
—–
Could you tell us about your book launch day three years ago? What was it like?
It was like a wedding reception the bride never expected. I wanted to hold my launch at an indie bookstore in downtown Chicago close to my parents' home where I lived for the first two years after my divorce. The store asked that I guarantee thirty attendees. I thought I could do that, but not much more. I was born and raised in a suburb next to Chicago and had been in the area for the last fourteen years at the time. So I invited everyone I knew: childhood friends, family, my doctors, dentist, hairdresser, my kids' doctors, and friends I'd made since moving back in 2000. In short, anyone who had ever expressed interest in Good Chinese Wife. If only twenty-five showed up, I thought the store would still be happy. When I arrived there the night of my launch, the store owners told me they'd ordered 100 copies of Good Chinese Wife. I was starting to worry they'd have to return most of them. Many of my friends and family had pre-ordered the book on Amazon, so I wasn't sure they would buy a copy at the store that evening. But then people started pouring into the store. I couldn't have scripted it better. At one point I counted eighty people and knew all of them except one. The owners told me that only ten books remained at the end of the evening. I am so grateful to all those friends and family members!
Looking back three years ago, what was the best part of your book launch experience?
The outpouring of support. You arranged an amazing blog tour of AMWF bloggers who reviewed the book or interviewed me about it. We had a few giveaways and it was so nice to feel connected to the AMWF community, even though my AMWF marriage didn't work out. I've made many friends in the community from that blog tour and have met some in person!
Now that Good Chinese Wife has been out there for three years, and you've had the opportunity to connect with so many readers, what have people been saying about your book?
Since the book touches upon uncomfortable topics and is very personal, I thought the reaction would have been more divided. But it's turned out to have been overwhelmingly positive. I've visited about twenty book groups in person and have Skyped into another ten. All but one person has finished the book, which is a major feat in itself. I'm in a couple book groups and it's rare when we all finish—or even start—the book. Of all the people I've met, they've all read it and complimented me on being strong to leave an abusive marriage. That one person who didn't finish the book told me that she was frustrated by how much I put up with in that marriage. But at the end of that book group meeting, she said she was going to finish the book because I was so open about talking about my experiences.
How has your perspective on Good Chinese Wife changed over these past three years?
If I had to do it over again, I would have focused more on domestic violence and how women of all backgrounds are victims. I was trying to tell the story as it was happening and some included self-reflection. You know, like if I only knew then what I know now… . But I would have emphasized more about how female and male victims of domestic violence aren't all from broken families with no education who have never left home. It can happen to anyone and no culture is immune to it.
You still continue to meet with book groups to talk about Good Chinese Wife. What questions do readers typically ask you?
I talk about domestic violence and what I just described above. Book groups also ask why I wrote the book. The main reason is because I've met so many women and men who have gone through similar experiences. I learned a lot about international custody law and interstate custody law, and I wanted people in these situations to know what I didn't know when I was going through the same. They also ask how Jake is doing today and if he's seen his grandparents since they returned to China when he was one. He's doing really well and he visited his family in China last summer after he turned 18 and will go again this August. And what's been the most rewarding is when they've shared their own experiences, whether it's about their daughters, sons, nieces, or even themselves.
Tell us something you wish you had known three years ago about book launches when Good Chinese Wife was just coming out.
I was told I should only have a couple events in Chicago around my launch because I wouldn't want to spread my audience too thin. But I see that other authors often have half a dozen events in their home city around their launch. I think I could have squeezed in another event or two around the launch. Also, I didn't realize that bookstores only want to schedule readings within the first six months after a book launches. I've traveled to New York, Washington, DC, Princeton, NJ, a couple towns in Connecticut, and Hong Kong for events. The further out from my release date, the more difficult it was to set up events. I was pretty much on my own to arrange these events (apart from the two Chicago events on my pub date and a week after that) and will be more cognizant of that six-month window next time.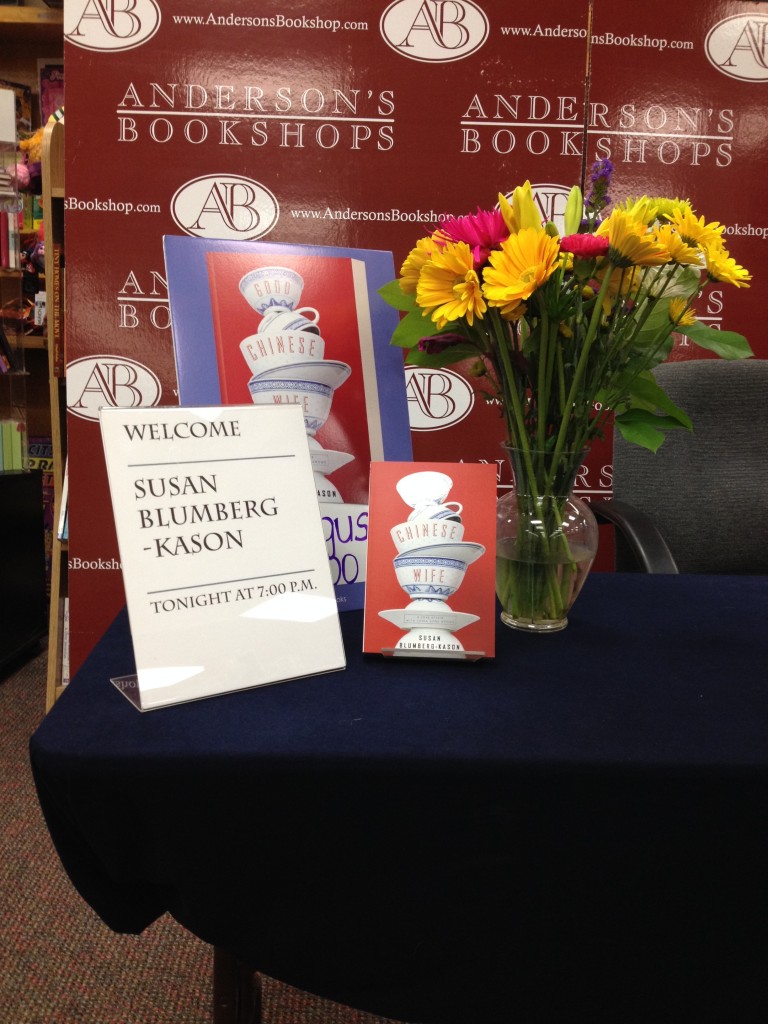 Could you share with us any writing projects you're currently working on?
Sure! I've been working on a follow-up memoir about dating as a single mother soon after I turned thirty. I had had a cross-cultural marriage and that didn't work, so I thought I would turn to guys who were just like me: Jewish with Chicago roots. I hadn't dated in high school at all and only had a few first dates in college. Most of my dating experience had taken place in Hong Kong before I married Cai, so I knew about Hong Kong and Chinese dating culture, but was clueless when it came to American dating culture once I was back on the market. And I was a single mother to boot. The story ends well because I did meet Mr. Right, but it was a struggle to get there. I want this book to encourage divorced and/or single parents that it's possible to find love after a big break-up, even in the age of internet dating and dating apps.
—–
A huge thank you to Susan for doing this interview! You can learn more about Susan Blumberg-Kason and Good Chinese Wife at her blog www.susanbkason.com, and follow her on Twitter at Susan_BK, on Facebook at Susan Blumberg-Kason, and on Instagram at susanbkason. Her memoir Good Chinese Wife is available at Amazon, where your purchases help support this site.