As a child growing up in Cleveland, Ohio, USA, wild edible plants — especially those we foraged for ourselves — were never on the menu. Sure, we picked blackberries on late summer hikes and a few times I tried harvesting Staghorn sumac berries to make my own tea. But otherwise, the food on our dinner table came straight out of a supermarket.
So it's hard to believe that, these days, wild edible plants comprise at least half or more of the stir-fried dishes that leave my mother-in-law's kitchen here in China. Even stranger to me, I've actually helped forage for some of these wild edible plants. To think that something I harvested actually became dinner!
Now that I've discovered the joys of harvesting and dining on wild edible plants, I can't imagine life — or lunch — without them. Call it yet another one of those surprising things I've learned from living with a Chinese family in the countryside.
Here are three amazing wild edible plants here in Zhejiang, China that have enchanted me and my Chinese family this Spring.
Fiddlehead ferns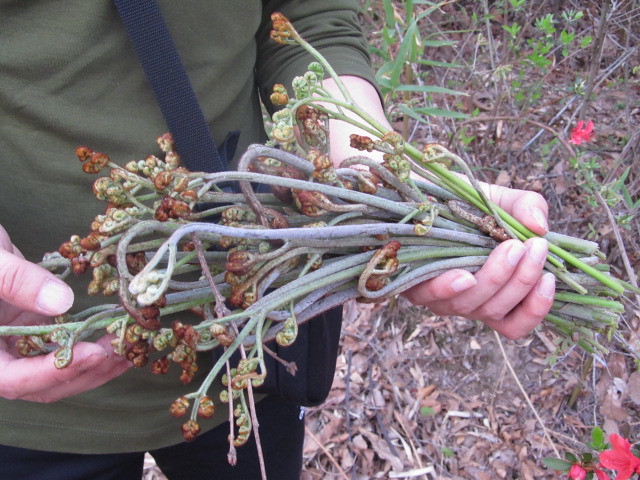 These tender fronds have become a Spring favorite in farmers markets in the US (and among foragers who know and love them). But out here in rural Zhejiang, people have gathered fiddlehead ferns in the mountains for generations. The local variety is the bracken fern and the tender shoots spring up over the mountains in our village.
Some claim bracken fern is carcinogenic, though there's really no absolute evidence proving that the consumption of bracken fern fiddleheads will definitely give you cancer. When I posed this "do bracken fern fiddleheads cause cancer?" question to my mother-in-law, she dismissed it as unscientific and ridiculous. "People here have been eating this for generations, even grandma, and they're not getting cancer." Well, even if you disagree, remember that some popular foods (red meat and hot dogs, anyone?) are considered carcinogenic. Personally, I think I'll take the risk.
We only pick the most tender fiddleheads growing in the mountains, with the fronds still curled up. These days, it's not uncommon for my husband and me to return from a hike through the hills with a huge handful of fresh fiddleheads. I never thought a simple hike could yield so many delicious things! 😉
My mother-in-law washes them thoroughly in her kitchen and then blanches them. Some claim the process reduces the carcinogens in the fern, though my mother-in-law says this simply eliminates the unpleasant sour, "numbing" flavor of the fiddleheads. Finally, she chops them into matchstick-sized pieces and stir-fries them with fragrant garlic, ginger, pickled hot peppers, Shaoxing wine, and salt.
So tasty, you'll forget all about the alleged cancer claims. Promise!
Spring bamboo shoots
The Chinese saying "like spring bamboo shoots after rain" (yǔhòuchūnsǔn, 雨后春笋) refers to how quickly things can suddenly happen or come up. And trust me, after the rains in late February and March settled over our region of Zhejiang, before I knew it spring bamboo shoots were sprouting all over the hills.
Right now, we're seeing two varieties in the mountains. One is moso bamboo shoots or maosun (máosǔn, 毛笋); this is the largest variety of bamboo you usually see in the area. If you've ever watched any Chinese films that feature bamboo forests, chances are they're moso bamboo. The other, well, I have no idea what it's called in English — but it's small and grows wild all across the mountains, so in the local language they call it "mountain bamboo shoots" or shansun (shānsǔn, 山笋). To harvest either variety, you simply dig up the shoots from the ground.
Whether maosun or shansun, you must first peel away the hard husk of the bamboo shoots to reveal the tender and edible portion.
These days, when it comes to wild bamboo, we've mainly seen wild maosun at the table. My mother-in-law usually prepares it one of two ways. For the vegetarians in the family (i.e., me!), she stir-fries it with lots of rapeseed oil, ginger, sugar, Shaoxing wine, soy sauce, pickled greens, and salt to taste.
For the carnivores, she stews the maosun along with fatty pork, ginger, sugar, Shaoxing wine and salt to taste.
If you've only known bamboo through the lackluster canned versions sold in the West, all you need is one taste some wild bamboo shoots and I promise, you'll never buy another can again!
Mugwort (Qingmingcao)
This past Saturday (April 5) we just celebrated Qingming Jie (qīngmíngjié, 清明节) or the Tomb-Sweeping Festival where people visit their ancestors graves and remember family and love ones who have passed away. And here in rural Zhejiang Province, there's no wild plant more beloved during this holiday than the aromatic mugwort, also known as qingmingcao.
It's hard to believe just how common this variety of mugwort is around here. In fact, it grows like a weed everywhere, even in the dusty pebble lanes that criss-cross the fields in the village. For nearly two weeks, I hiked these lanes, never realizing all that time that mugwort was right under my shoes!
My mother-in-law gathers wild mugwort from the hills well in advance of the holiday, because this lowly little wild green undergoes an extraordinary transformation in the kitchen. After cleaning it, she blanches it and then crushes and grinds it into a paste, infusing the kitchen with an aroma reminiscent of lavender. The paste then goes into a warm wok along with glutinous rice flour, creating a dark green dough.
That dough then gets kneaded and partitioned into small rounds, which after being flattened, become the wrappers for qingming turnovers (stuffed with chopped up bamboo shoots, tofu, and salted greens).
For a sweet version, my mother-in-law adds sugar to taste to the green dough and then shapes the rounds in a small mold made especially for Qingming Jie.
Finally, she steams the turnovers and sweet rounds in her wok until they're cooked through and turn a deeper shade of green.
Here's the final product (one turnover, one sweet round) — slightly fragrant, sticky, and oh-so scrumptious. Remembering your ancestors never tasted so good!
Have you ever foraged for wild edible plants? What are your Spring favorites?