Heather Caveney, who blogs at An American Tomboy in Mongolia, was always skeptical of love stories…until she found herself lost in her own love story while vacationing in Mongolia. 
Do you have a love story or other guest post you'd like to see featured here on Speaking of China? Visit the submit a post page to learn more about how to have your words published on the blog.
—–
You know that movie where the woman travels to a faraway place and meets the man of her dreams? Or what about that novel in which the heroine has a midlife crisis and overhauls her entire life? Yeah, that's the stuff of the silver screen, books, and urban legends, right?
While I have watched plenty of those movies—think Under the Tuscan Sun and Eat, Pray, Love—and I still read Jane Eyre regularly (every couple of years), I was a skeptic when it came to love stories. Two and a half years ago I would not have called myself a "romantic."
I was satisfied with a sedate and ordinary American life in Colorado. I had meaningful work, a loving family, great friends, and a calendar packed with events and commitments. I had resigned myself to the spouse I'd chosen fourteen years earlier and with whom I'd built a life–two vehicles and a suburban home filled with furnishings and all the stuff we seem to want and need in America. The things I had acquired and surrounded myself with seemed they should be, well, enough.
Instead of my life widening out into a matrix of forks in the road, I'd somehow arrived to a dead-end cul-de-sac. To anyone on the outside, I had the good life. On the inside, I was doing time.
Then Mongolia–and Zorig–happened.
It was July 2014–the summer after my 40th birthday. My traveling companion was my father. We'd been planning and saving for this trip–three weeks to explore Mongolia–for more than three years.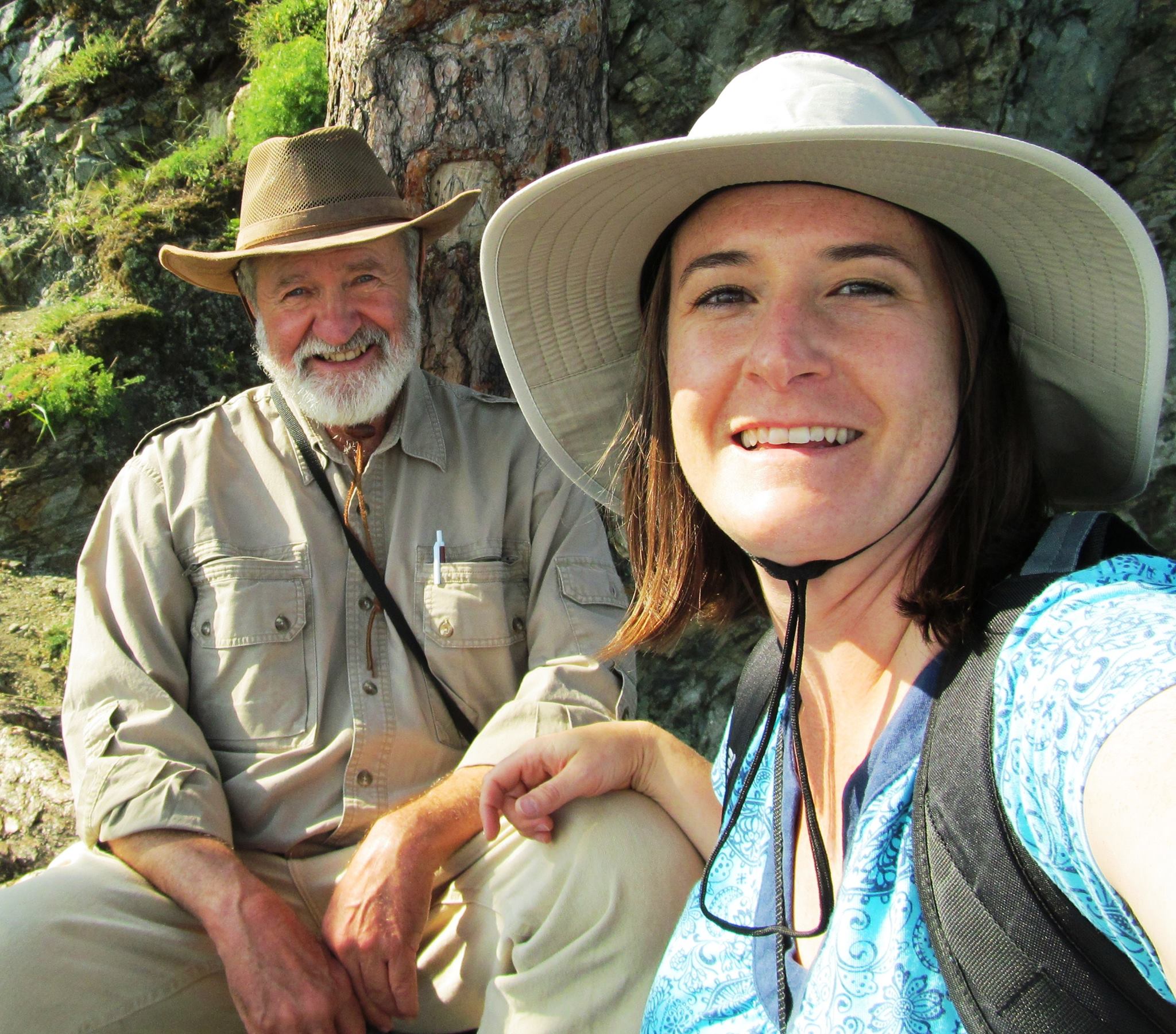 It was there, on the wide-open steppe with its absence of fences that something began to crack open inside of me. A ger camp had become our temporary home. It was there that I found myself drinking vodka, with my father and three Mongolian men, that I felt free, and what it meant to be fully PRESENT with others. It was there, under a star-splattered midnight sky, when we paused in a mountain field blanketed with knee-high wildflowers, listening to wolves howl, that I thanked the universe for being free from the tethers of technology. And it was there that I became intrigued by a man named Zorig.
Now, this is not some kind of love-at-first-sight story. Well, Zorig claims it was "love at first seen" for him. But that was NOT the case for me.
I was a married woman. Traveling with my father. Camping in the countryside where there were no showers. Wearing a baseball cap because my hair was greasy. Get the picture?
But I'd be lying if I didn't say I was curious about this man who was our fishing guide and translator. His name—Zorig—made him sound like a superhero, or a sports car. We spent six days traveling and fishing with Zorig (as well as a driver and local area guide) on the Onon River, located in Khentii province, the birthplace of Chinggis Khan.
In fact, you could say that Chinggis Khan got us together!
After many adventures over four days of fishing—including getting stuck in a river, listening to wolves howl back to our guide's call, enjoying hyam (sausage) and pickles while drinking vodka, hunting for a terrain feature to pee behind, eating marmot, and sharing small shards of our personal lives—something ignited between us.
While I do not condone cheating or being unfaithful to one's mate, I have to own the choices I made. On that last night before we returned to Ulaanbaatar and prepared to depart Mongolia forever, I made a choice to see if what I'd been feeling—a connection between this strange Mongol man and myself—was real.
I watched my father tuck himself into bed, turned out the light, and then I stepped outside the ger (yurt). Not knowing how to proceed (it had been over 16 years since I'd flirted or made a move on a man!), I watched a brilliant half moon rise up from the horizon, illuminating the steppe before me and the river off in the distance.
"What are you thinking about?" asked Zorig, materializing at my side.
"Chinggis Khan," I said, simultaneously surprised and relieved.
We spoke briefly about the infamous Mongolian leader before Zorig invited me into his ger. I drank vodka with him, our driver, the local guide, and one of the men that had helped get us un-stuck from the river two days before.
I had been wondering, for days, what it would be like to kiss this wild and exotic man. Yes, I understand the cliché that sits in that sentence. But you see—I was making good on a declaration I'd made as a teenager—"to date someone from every race." At more than 40 years old, the absurdity of that is not lost on me. What is "every race" to a white girl graduating high school just outside of Gettysburg, PA? It's laughable to consider now. But as a young adult I had tried to pursue a path in multicultural dating. I'd dated white, black, and Hispanic. I'd kissed a beautiful Norwegian soldier while working in Sarajevo as a photojournalist with the U.S. Army. And I'd hunted throughout my college years and early adult life for an Asian man to date. Or kiss. All hunts had proved fruitless.
It was in Mongolia where he finally walked into my life, and later on–into my heart. He was a hunter, a fisherman, an adventurer. He was brave and bold. He was a man who went after what he wanted.
That night, we hugged. We kissed. And it was a stunning surprise.
My mind raced with thoughts of him being a Cassanova, someone that hit on all his (female) clients, and certainly someone that was looking for a quick something-something. But oh, the kiss was not what I expected (rushed, hurried, sloppy!).
It was tentative.
Careful.
Soft and sensual.
This man would continue to surprise me at every turn in the road.
The next morning we drove back to the capital, Ulaanbaatar (UB). Zorig tried to hold my hand on the ride. I jerked away, shocked he would be so bold with my father sitting in the front seat. I pretended to sleep the entire eight hours.
After a quick unload and time for a shower and change, Zorig collected Dad and I from the Edelweiss Hotel and we went by taxi to Silk Road, a nice restaurant, that catered to tourists and expats, in the heart of the city. This was a change from our schedule. We were supposed to be eating in the hotel's restaurant. Unaccompanied.
As we were seated in a small private, glassed-in room at the center of Silk Road it occurred to me that THIS WAS A DATE. However, my dad and our driver (who arrived late and left early) had to be present to make it "business." We drank two bottles of wine, enjoyed lovely meals, and the men enjoyed after-dinner scotches. We talked and drank and ate for nearly four hours. Zorig put his hand on my knee under the table (my father was clueless!)
When he went to pay the check, I gave Zorig a folded note (basically a Dear John letter–thanks for the fun! and goodbye).
Escorting us back to the hotel on foot, he deftly slipped the note into my jacket pocket. Arriving, he told us the time he'd collect us in the morning for airport delivery, and said goodnight. As we climbed the stairs, I read:
"I wait for you at first floor anyway. If you think of me like friend, come and talk a while."
Oh, what to do!?! It was 11 pm and we would leave in ten hours. I was in a strange city. A foreign country. My father was going to sleep. I should do the same. But I could not. All I thought was, "If you don't go, you will always wonder what if!"
I said goodnight to my dad (we had adjoining rooms with our own bathrooms) and told him I was going to the communal computer on the second floor to check on our flights. I grabbed my tiny travel purse, cramming my passport inside.
I arrived to the lobby and saw Zorig standing just outside the front door. When I stepped out he took my hand in his and led me to River Sounds–a live music dance club–located a few blocks away. We had a drink. We talked. We danced. We kissed "in the arena" as he called it; the dance floor, as I know it. At 1 AM I asked him to take me home.
"Okay," he said, "but every 50 meters we stop and kiss."
"Okay," I agreed.
I told myself during that walk all the reasons he was wrong for me, and why we couldn't work. He was too short. I was married. His hands were small. I lived in America. He lived in Mongolia. We hardly knew each other. Different religions (probably). Very different upbringings. What was that saying about a fish and a bird falling in love? Yes, this was a crazy and fun interlude in a wild place. I had no regrets. But this was, The end.
He paused to kiss me just outside the hotel and declared, "If I have any chance to have your hand, I'm going to take it."
I thought, "this man is crazy," and smiled. We kissed one last time and I went upstairs to sleep.
At the airport the next morning, Zorig helped Dad and I get our luggage and ourselves where we needed to be. Soon we were at the gate to international flights. My dad went to shake Zorig's hand and to give him his hard-earned tip. Zorig refused it. He refused mine as well. My father was flummoxed (he's a well seasoned traveler and this had never happened before!) and had to settle for hand shakes, hugs, and requests for him to return and catch the taimen which we had not caught. Then Zorig came in to hug me, placing his head on the side opposite from where my father stood.
"I love you," he whispered into my ear.
Now it was confirmed–the man was insane. He hardly knew me. He could not love me.
I did not love this strange man. But I also did not sleep on that 12 hour flight from Beijing to San Francisco.
When I arrived home on August 6th I had three emails from Zorig and a Facebook friend request.
Over the next four and a half months we got to know one another. We talked about foods we liked and disliked, our religions (or lack thereof), our families, our histories, what we did with our time. We talked about our work and world presidents and hunting. We shared failed dreams and hopes for the future. All of our communications were through email, Facebook messenger, and International texts. We never Skyped or Facetimed. It was all written words. Beautiful words. He courted me like we dream of being courted.
He had a way of knowing and understanding me that was both unnerving and exciting. He was honest and forthright. I can't say WHY I chose to accept and believe him at face value (this is a question he yet asks me). But I did. There was no game playing. He said what he wanted. Directly. And in that he inspired the same from me to him. He made me fall in love.
While that was happening, I simultaneously filed for divorce (that marriage had ended LONG before I met Zorig), sold a house, moved into an apartment. That dead-end cul-de-sac that had been my life, was suddenly NOT. My future was as wide open as the Eurasian steppe.
On December 22nd I picked Zorig up at the Colorado Springs airport. It was the greatest Christmas present I've ever received. Our mission: to discover if the love we felt was real. If we had the magic. The chemistry.
As you are reading this in the Double Happiness section of Jocelyn's blog, you already know the answer.
Within the first day, I knew that I would move to Mongolia. Over his seven week visit, we traveled. First to Michigan to spend time with my father, then to Idaho where he met my older sister, her two children, and my mother (who was visiting from Virginia), and then to Las Vegas where my brother and his wife, as well as my younger sister's fiancee came to meet him and spend a little time with us. At the end of January, Zorig proposed– and I said, "Yes." On February 10th I took him to the airport and said goodbye–for now.
We were to spend a second four and a half months apart. Once home in Mongolia, Zorig introduced me to his teenage son, Enkhjin, over Skype and we began to get acquainted via Facebook messenger. I secured a job in UB at an international school. And I sold or gave away everything I owned. I whittled my life down to 21 containers–12 boxes I shipped by container, 4 boxes I shipped by air, and I departed the U.S. with five 50 lb suitcases on June 30th, 2015, for Love and a new life in Mongolia.
In the blink of an eye we were married on October 2nd, 2015, at the Office of Civil Registration. Zorig had made good on that declaration to have my hand!
Over this past Christmas and New Year's I traveled home for the first time, taking Zorig and Enkhjin along to meet the extended family (we gather once every five years for a Caveney Clan Christmas in Northern Michigan). With the support of my father, we surprised my family and some friends (about 40 people in all) with a wedding ceremony on December 28th. That evening we ate roasted lamb and toasted with Mongolian vodka. 
Most days I still want to pinch myself. I don't know why I got a real life fairytale. But I did. And I'm writing about it here to keep the dream alive. You never know what is going to happen next in life. And in a world of 7 billion people…..it is possible that your match may be living on the other side of the planet. So travel. Be brave. And listen to your heart.
Heather Caveney writes about pursuing a life of love and adventure on the Mongolian steppe at her blog, An American Tomboy in Mongolia.
—–
Speaking of China is always on the lookout for outstanding guest posts! If you have something you'd like us to feature, visit the submit a post page for details — and then submit yours today.