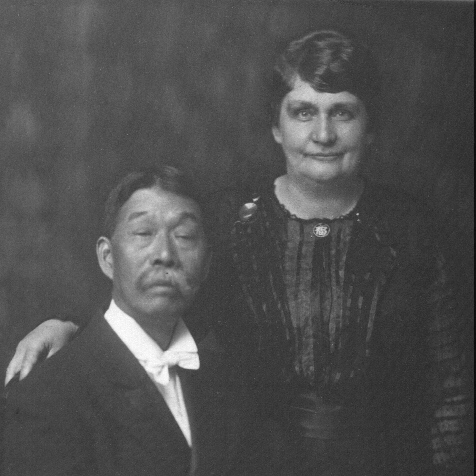 mali asks:
I just came across this book Grace an American in China with a foreign woman marrying a Chinese man in the 1930s and going to China. I thought it was pretty cool that they had their relationship then…wow that must have been so hard!! So I wondered if you knew about other actual women like her that married Chinese in the past?
—
I sure do. You might call them our "yangxifu grandmothers," the Western women who paved the way for the rest of us to love and marry Chinese men (and often at great cost to their own lives). Here's a list of six prominent women I know of — including Grace:
Louise Van Arnam Huie. Call Louise the "greatest" on this list of the yangxifu of the past — she fell in love with a Chinese man in 1889 (Huie Kin, a young minister who founded New York City's first Chinese Christian Church and later shared his experiences in a book titled Remembrances). They left behind more than just many descendants, as this NPR story notes:
Susan Edith Bell, a 21-year-old Harvard graduate now with Teach for America, says her great great grandparents raised six daughters and three surviving sons to value public service and the life of the mind.
The descendants of the Huie Kin family still have regular family reunions in the US, showing the love continues. 😉
Letticie See. Letticie — also called Ticie — had some serious grit. Sure she boarded a train, with just a bag to her name, at 18. But more importantly, she talked (and even demonstrated) her way into a job at Fong See's factory in Chinatown, which began a professional — and romantic — partnership that lasted decades. The couple married in 1897, though their union was never recognized during their lifetime because of anti-miscegenation laws. Read about Ticie and her descendants in the book On Gold Mountain by Lisa See.
Mae Franking. Mae could have been just another Midwestern Scotch-Irish girl in Michigan — but then she met Tiam in 1907 when she was just 17, and something changed. Not right away, though. Mae first became friends with Tiam, and eventually opened herself up to a controversial relationship and marriage (the latter denounced in racist articles that ran in Ann Arbor and Detroit). Still, Mae chose him, chose to move with him to Shanghai in the early years of the Republic, and even chose to become a good Chinese wife in the eyes of his family. Tragic events forced her return to Michigan after several years (read Mae Franking's My Chinese Marriage
to find out why).
Grace Divine Liu. Grace came from a conservative Tennessee background, but bucked all family expectations by falling for Liu Fu-Chi, a Chinese man she met while studying opera singing in New York City. She eventually married him in the city 1932, against the wishes of her family, and later settled with him in Tianjin. Anyone with a passing knowledge of Chinese history will see the dates on her book — 1934 to 1974 — to know there's some serious drama in this story. War. Harassment. Prison. But she stayed in China. Now that's courage and, dare I say, grace. Read about it in Grace: An American Woman in China, 1934-1974
See also this overview of the book on MandMX.
Gertrude Wagner-Du. When Gertrude saw Du Chengrong at a skating rink in Vienna in 1933, it really was love at first sight. She later traveled alone to Shanghai just to be with him — despite her disapproving parents — and married him in 1935 at a hotel next to Hangzhou's West Lake. Sigh.
But China's tumultuous history interrupted their happily ever after, from war with Japan to the Cultural Revolution. She could have easily fled to Vienna, but instead stayed in China out of love for her husband.
See her story as a movie:  For All Eternity (also known as "On The Other Side Of The Bridge" and "芬妮的微笑")
Gladys Yang. She married scholar Yang Xianyi in 1941, and the two formed one of the most famous pairs of translators, producing renowned English versions of classic Chinese literature, from A Dream of Red Mansions to Lu Xun's stories. People say Gladys truly loved China, a love that sustained her through some of the darkest times of modern Chinese history (she stayed there with her husband from 1941 until her death in 1999). This quote from her husband couldn't have said it better:
"She wanted to live a Chinese life and even after being in jail she still decided to stay in China," said her husband, who added: "She regretted her son's death, although otherwise I don't believe she regretted anything."
Read their story in White Tiger: An Autobiography of Yang Xianyi
. Also, see this appreciation from Black and White Cat, who apparently once had Gladys' sofa!
What do you think? Did I miss another woman worth mentioning?
—–
Do you have a question about life, dating, marriage and family in China/Chinese culture (or Western culture)? Every Friday, I answer questions on my blog. Send me your question today.