My husband shared with me an article published on the Beimei Liuxuesheng Ribao (The North American Overseas Student Daily) here in China — and it happened to be about a topic dear to my heart. Why do so few Chinese men end up with white women? But this time, from a Chinese perspective. They widen their exploration to consider the rarity of Asian men and white women together, and while their conclusions are mostly what you might expect, there are some surprises along the way.
Below is my translation of the original piece in Chinese. In a few areas, I've added my own comments as well as relevant links to cited materials and topics. The piece also includes some links to Amazon, where your purchases help support this blog.

Also please note the following credit for the featured photo up top, first seen in the post 9 Powerful 'AMWF Superman' Photos to 'Save' Your Day: (Photo by Ana Hudson (WhiteChocolatePlayer), featuring Justin Zhang (IG: NoobStrength) and Angelina (IG: musicloveandlies))
—–
Whenever walking through Beijing's most international Sanlitun area, from time to time you will see "yellow and white pairs" – foreign men and Chinese women together as couples. But there's another kind of "yellow and white pair" – couples of white women and Chinese men, which are extremely rare to see.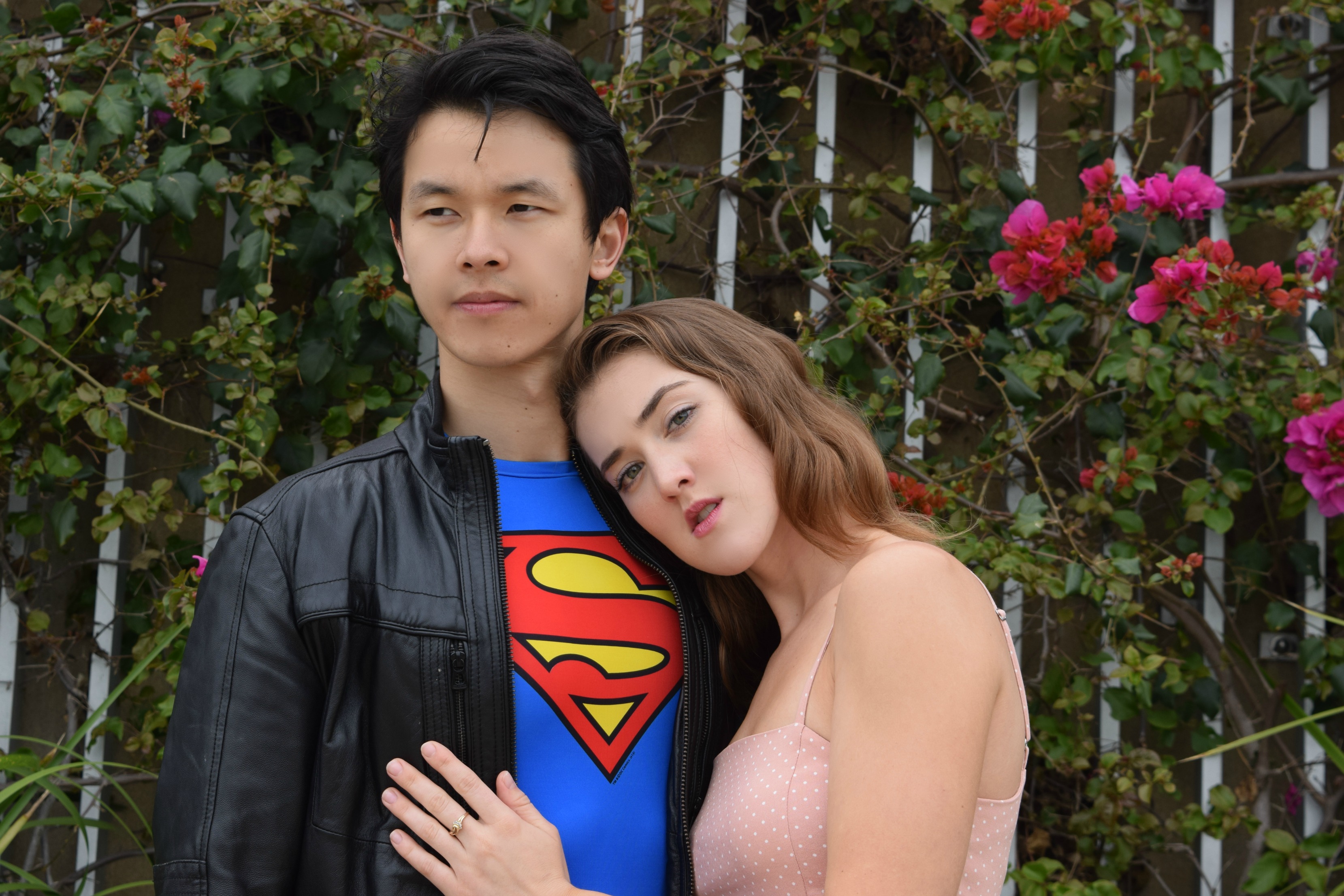 Those who are good at analyzing the inherent ethnic flaws of Chinese people will more or less have seen or heard something like this. There are people who believe Chinese women have a "white" allegiance and throw themselves at these foreign men, characterizing them as the very "easy girls" foreigners say they are.
There are also those who believe the problem is with Chinese men. Shanghai Academy of Social Sciences Professor Zhang Jiehai published the results of his own Survey of Chinese Men and directly gave Chinese men a "death penalty": suffering from a collective mental impotence. Foreign women don't look for Chinese men because the men lack confidence, and this however was "the result of China's backwardness over the past century, because of ceding territory and losing money." The analysis of Chinese-foreign differences had a master key. Anything, as long as it was backward, was because of inherent ethnic flaws; and these inherent ethnic flaws could all be traced back to the late Qing Dynasty.
The truth is what people see – that there are many more pairs of white foreign men and Chinese women, and very rarely do Chinese men get together with white European or American women. But you cannot merely blame this on Chinese men. In all of Asia, especially East Asia, it's rare to see the men paired with white European or American women.
Asian men – at the bottom of the food chain
Overall, the ratio of Asian women and white men together is much higher than Asian men and white women.
According to the 2012 Pew survey on interracial marriage, in 2010 in the US, some 36 percent of newly married Asian women had spouses of another race, compared to 17 percent of Asian men.
But this was the opposite for African American men – 24 percent of the men were married to spouses of another race, compared to only 9 percent of the women. For white and Hispanic people, the situation was not that different.
In the dating market, for Asian men it's even crueler. The online dating site OKCupid found that Asian women were the only group that all men (Asian, white, black, Hispanic) considered attractive at a rate that was higher than average – not even white women reached that level of popularity. Meanwhile, Asian men were rated far lower than the average by all other races, except for Asian women.
The OKCupid data also gave this kind of result – that men who weren't black didn't like black women. The racial preferences of black men weren't obvious, and all women liked men of their own race. Relatively speaking, women were less attracted to Asian men and black men. Black men and Asian men were at the bottom of the marriage food chain.
Data from another dating app called Are You Interested found similar results. Except for black women, nearly all women flocked to white men. While when it came to women, Asian women were most popular.
So, when it comes to interracial marriage, white men and Asian women are the most common pairing. Both stand at the top of the marriage and love food chain. In the interracial dating marriage market, Asian men are most thoroughly a case where "women are superior to men".
This phenomenon of the women marrying other races more than the men is almost peculiar to Asians. Even men from Korea and Japan, developed countries with living standards and educated populations, cannot overcome whites. What is it that caused such a great divide between Asian men and women?
Is it that from the perspective of other races, Asian men are not attractive enough? Research by Cardiff University in the UK found that, among whites, blacks and Asians, Asian men were considered the least attractive, with a rating of 3.781 (a perfect score was 10). But the study also found that Asian women were considered the best looking group, with a rating of 5.511, higher than the 5.065 for white women and the 4.720 for black women.
The sex appeal of Asian women has been called "yellow fever" (a term that originally referred to a disease). The Chinese American playwright David Henry Hwang's "M. Butterfly" proposed this for the first time. And Asian women also flock to Western men. William Somerset Maugham wrote in "The Moon and Sixpence" that "You know what these girls are; they're always pleased to go with a white man." This phenomenon has been named the "Pinkerton Syndrome", and is also called Madame Butterfly Syndrome, borrowing its name from the opera "Madame Butterfly". [Jocelyn's note: it's important to recognize that the Asian fetish has a negative effect on Asian women in particular, and that Asian women can face harsh and unfair judgment in interracial dating.] 
While both are Asian, why is it that Asian men are at the bottom of the dating food chain, while Asian women are at the top? Perhaps through the typical images of Asian men in Western movies and TV, we can see some underlying reasons.
What's the use of studying well?
Before the 1960s, evil like Fu Manchu and emasculated like Charlie Chan were the typical images of Asian men that thrived on screens big and small. But since the 1960s, against the backdrop of counterculture and civil rights movements in Europe and America, the images of Asian men became more diverse. On one side of the equation you had evil, crafty, emasculated and low-status Asian men; on the other were smart, studious, high-achieving and increasingly "model minority" examples.
But this high-achieving attribute did not make Asian men more attractive. At best, they're high achievers; at worst, nerds without social skills who have strange behavior and never talk. Even in countries that value education like China, it's hard for nerds to find a partner, let alone in the United States of America.
Today, the images of Asian men in mainstream Western culture have become more abundant, but they tend to stick to only a few types. They can do kungfu (like Bruce Lee, Jackie Chan or Jet Li), they're pedantic (like Charlie Chan), they're high achievers (as seen on almost any American university), their role is the punchline of the series (like the Korean boss in "Two Broke Girls"). These roles might on some level inspire admiration, but they are entirely without sex appeal.
In fact, the dominant images of Asian men in American media are not sexual roles. Research has found that Asian American men on the screen are only 25 percent as likely to have a romantic or family relationship as other races, overall portraying Asian American men as "asexual". Even the most masculine martial arts stars are usually only responsible for those hand-to-hand fights among men, and sex scenes are rare for them.
For example, in the American movie "Romeo Must Die," the film originally had the American female lead Aaliyah kiss the male lead played by Jet Li. But during a screen test, audiences were really not used to it. So the film company changed the ending, having Aaliyah and Jet Li hug. In discussing "The Slanted Screen," the documentary about the portrayals of Asian Americans on the screen, its director said, "Mainstream America, for the most part, gets uncomfortable with seeing an Asian man portrayed in a sexual light."
This may have something to do with the perceived lack of masculinity among Asian American men. The earliest Asians in America, particularly Chinese immigrants, were more engaged in washing clothes, caring for children and cooking, business pursuits considered more feminine. Add to that short stature and wearing a long braid, which was very unpopular in mainstream society. This perceived effeminate character has continued to the present without much change. Even Asian actors with outstanding capabilities such as Bruce Lee and Jackie Chan are only permitted to be "hired fighters", where there's no opportunity for romance.
At the moment, Asian men are mainly portrayed in mainstream America as idiotic nerds or as someone with eccentric behavior meant for comic relief. Although this is a significant improvement over the 1st half of the 20th century with its "evil Fu Manchu", it's nevertheless still not that likeable. For example, Asian men play characters that are meant to be laughed at. Consider Han Lee, the short boss who owns the diner in "Two Broke Girls", the gay Asian boss in "The Dictator" who screwed Edward Norton, Leslie Chow in "The Hangover", or the Asian man in the US version of "The Office".
Asian men like that could hardly meet the European or American women's standard for guys – a fully masculine "Marlboro Man". Think of how odd it would be for an Asian man to dress up as a Western cowboy, while a black man or a latino could surely pass. [Jocelyn's note: Actually, an Asian man, Lee Byung-hun, did star as a Western cowboy in the movie "The Magnificent Seven".]
Demand determines supply, and there's such a small number of Asian American actors playing a narrow range of characters because audiences don't accept them. Popular entertainers in Europe and America are also popular in Asia, while Asian entertainers rarely make it big in Europe or America. If you were asked within five seconds to name an Asian male star in the American and European entertainment industry, most people would be tongue-tied.
There are some TV shows and movies that include love affairs between Asian men and white women. Chinese people are most familiar with Tony Leung Ka-fai and Jane March in "The Lover," and Chow Yun Fat and Jody Foster in "Anna and the King". But when Annaud, the director of "The Lover", was selecting the male lead, he experienced some difficulties. As there was no one who could meet the requirements among Hollywood's Asian actors, who mainly played bit parts and had difficulty conveying the emotional drama of the character, after much struggle the actor settled on Hong Kong actor Tony Leung Ka-fai.
Asian women are the most likeable
Research has found that the image of Asian Americans is overall perceived as more feminine. This has impacted Asian men, where "at best they're an effeminate queen of the deep, like Charlie Chan; at worst, they're a homosexual threat like Fu Manchu." But at the same time this has benefited Asian women. As America's "model minority", this perceived subservience, kindness and loyalty are considered good qualities for women. [Jocelyn's note: However, these stereotypes have negatively impacted Asian women, so this isn't really a benefit.]
In addition, Asian women are thought to be mysterious and exotic. The famous opera "Madame Butterfly" fully satisfied the fantasies of white people about Asian women. Butterfly is a Japanese geisha who meets the American military officer named Pinkerton stationed in Japan and falls in love with him. Even after Pinkerton returns to his country, Butterfly still deeply loves him and believes that he will return. Finally Pinkerton returns to Japan but brings with him his American wife. Upon learning the truth Butterfly committed suicide — thus Asian women are subservient, kind, loyal and full of Eastern character. "Madame Butterfly" was later adapted to "Miss Saigon" — the story and background was moved from Japan to Vietnam, but the essence of the story remained the same.
In addition to being perceived as submissive, Asian women have a fortitude and sex appeal that is considered rare among Asian men. For example, there's Lucy Liu's role in the 1997 to 2002 American TV series "Ally McBeal", Maggie Q's lead role in the 2010 to 2013 TV series "Nikita", or even Lucy Liu's main role as a female Watson in the TV series "Elementary". These characters have not only the excellent qualities attributed to Asian people, but also a sex appeal that Westerners prefer.
Of course, Asian men at the bottom of the marriage food chain need not worry too much. When it comes to choosing a mate, Asian women first consider their own men. [Jocelyn's note: as the 2008 study Racial Preferences in Dating: Evidence from a Speed Dating Experiment noted, "women of all races exhibit strong same-race preferences". See also the NYTimes article, highlighting that more Asian-Americans are dating within their race.]
Then again, if you really want to win the hearts of foreign women, take a look at movies like "The Lover" and "Anna and the King" with Asian men paired with white women, and you will realize a truth: as long as you have money, the color of your skin isn't a problem anymore.
What do you think of this piece?