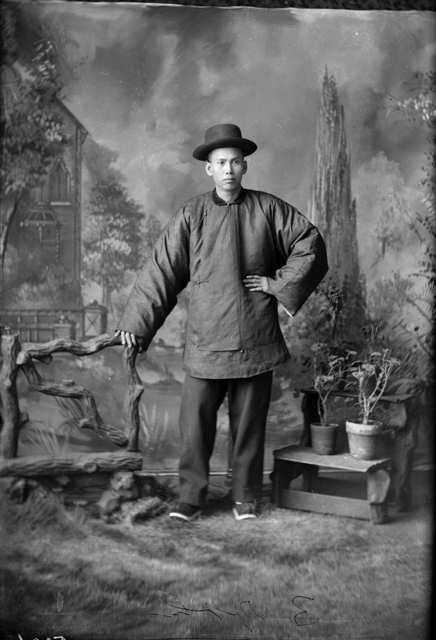 Chances are, if you've ever been in an interracial or intercultural relationship, you've experienced your share of negative comments or racist remarks.
But at least you've never been arrested, like Sarah Burke and Wong Suey Wong were in San Francisco, California in 1883. That's just one year after the Chinese Exclusion Act was passed.
Here's the initial story from the San Francisco Chronicle, 7 April 1883 (per Frederickbee.com):
Officer Travers brought to the city prison at 12:30 o'clock this morning a Chinaman on whose arm whose was hanging a pretty young girl of some twenty summers. The couple proved to be no others than Wong Suey Wong and Sarah Burke. The arrest was made at 728 Jackson Street, a house of ill-fame, being the abode of several Celestial courtesans. Here Sarah Burke was found, in one of the upper rooms, in a bed completely hidden by sheets used as curtains. At the police station she said that she had gone to the house on Tuesday last, knowing that it was a house of ill-fame, but not caring, since in a day or two she would be legally married to the choice of her heart, with whom she has been living for the past five months. On being parted from her Chinese lover she squeezed his hand, which he returned with equal fervor. In the Chinaman's pocket was found, besides a receipted bill for a bed and a spring mattress, a photograph of his fair amorata, from which he parted with evident reluctance. He was charged with felony in having lodged a girl under age in a house of ill-fame, while she was booked for residing in a house of prostitution.
In other words, the authorities dredged up some pretextual reasons to throw them in jail, since they didn't like the idea of a Chinese man and a white woman being in love.
And if you had any doubt as to how people felt about a relationship like this in those days, well, read the first line of the April 8, 1883 story in the San Francisco Chronicle follows on 8 April 1883 (per Frederickbee.com):
Sarah Burke, who has unalterably set her mind upon a disgusting marriage with a Chinese laundryman, acknowledged that she had passed a dismally and frigidly cold night in prison on Friday. Wong Suey Wong, her Mongolian fiancée, coincided in this experience. About 11 o'clock yesterday morning some of the pair's Chinese friends obtained the release of the couple on bonds in $100 each.
This April 8, 1883 story highlights the challenges the couple faced in trying to marry, noting, "…it was fortunately discovered that for decency's sake a marriage between a white and an Indian, mulatto or Mongolian, was prohibited and therefore the County Clerk could issue no marriage license." Sarah and Wong's only options were a marriage under a civil contract or a marriage without a marriage license.
(As shocking as this sounds, it reminds me of the restrictions the US had placed on same-sex couples. Hard to believe the US Supreme Court only legalized marriage equality just last year!)
But it gets worse when Sarah's father attempted to have her committed to an institution for insanity, "who deemed the fact of her infatuation for a repulsive Chinese sufficient grounds for believing that she had lost her reason." Ugh!
Here's the story in the San Francisco Bulletin 12 April 1883 (per Frederickbee.com):
The father testified that his daughter had always been possessed of ordinary common sense until about the first of last January, when she conceived her unhallowed desire to wed Wong Suey, since which she had acted as though possessed of the Infernal One. He had never had any reason to doubt that she was a chaste and moral girl until now. Sarah Isabella was also examined. She again reiterated her love for Wong Sue, and desires to marry him….

The Commissioners, however, concluded that they could not commit the girl as insane. She was evidently suffering from a moral eclipse, but her mental trouble did not, in their opinion, come within the meaning of the law….
The story even chronicles how "a stalwart policeman grabbed Wong by the nape of the neck and small of the back, and hurled him into the hallway adjoining the Commission" after Wong entered the room and embraced Sarah. Horrible!
Fortunately, all charges were dismissed against Sarah Burke, and the couple were married by Reverend Mr. Vrooman.
But did they live happily ever after? Hard to say in the late 1800s in America, a world filled with hostility for interracial couples.
What do you think?
P.S.: Thanks to Tony of Frederickbee.com for tipping me off to this story and offering a wonderful repository of information at his website.
I'm always on the lookout for more AMWF history. If you know of a couple or story you'd like me to spotlight, contact me today.