I've got a secret to share with you.
Remember how a couple of weeks ago I mentioned John and I just celebrated our 10th marriage anniversary? And remember how we subsequently met with our friends at a nice Hangzhou restaurant on said anniversary?
Our friends who dined with us that evening had no idea it was our 10th anniversary. (We actually told them it was a dinner to celebrate my birthday – which was true, in part.)
It's crazy, I know. And you might be wondering, Why would they hide such an important anniversary from their friends in China?
Because in China, it's incredibly awkward to be married for 10 years and not have any kids. So awkward, that my husband just doesn't want to mention it to his friends or even talk about it with people we know (like a friend's mom we walked through the park with the other night). It's funny how something that made me feel so proud could actually make me feel embarrassed at the same time.
For those of you wondering what that awkwardness is like, here are 5 things that reflect the challenges of being a married couple of 10 years in China with no children:
1. You will need a coping mechanism for the many times people ask you, "Why don't you have children?"
In the US where I grew up, this sort of question is mostly off-limits (unless you have one of those really nosy relatives who doesn't know the meaning of the term "off-limits"). In China, it's par for the course. After all, this is a country where "Are you married?" and "Do you have children?" are a Chinese equivalent of asking "Are you well?" – ways to show your care and concern for someone else.
Well, believe me, when people find out we're married but have zero children, they look INCREDIBLY concerned.
This is a culture that believes marriage and children are as inseparable as Beijing duck and those tasty little pancakes – you just cannot have one without the other. Chalk it up to Confucian values, particularly filial piety. In fact, of the three unfilial actions, the worst of all is never having kids (which are the next generation to care for the elders and worship the ancestors).
When I hear this question – "Why don't you have children?" — the flippant side of me desperately wants to say, "Mind your own business!" But that doesn't go over too well with most people, as you can imagine.
Sometimes I just say, "Because we don't." Sometimes I tell people, "Because we can't," and leave it up to them to figure out what that means. Sometimes I just change the subject. But more often, if my husband is with me, I just leave the answering to him!
 2. You will need to find your inner courage whenever your mother-in-law suggests you're an "old maid".
I love my mother-in-law to pieces, but whenever we return back to the family home after a long hiatus, she immediately brings up having kids and then tells me I'm "too old". After all, we've been married for a decade and I'm over 30 (30 is the official "expiration date" in China for having kids).
I know what you're thinking, it's just her opinion and it's just a bunch of words. But things like that have a way of wiggling into your subconscious and tugging on your insecurities. Before you know it, you're wondering, "Am I too old?" Or worse, you follow this whole train of thought to its depressing end – often something involving you curled up on your bed crying away a perfectly good afternoon.
It takes a LOT of courage to fight through these awkward moments and find your inner confidence. I still don't have a magic bullet to deal with suggestions that I'm too old. What I have found, though, is that moments of just being present – taking a walk through the park, or focusing on my breathing – can help me feel more comfortable with where I am right at this moment.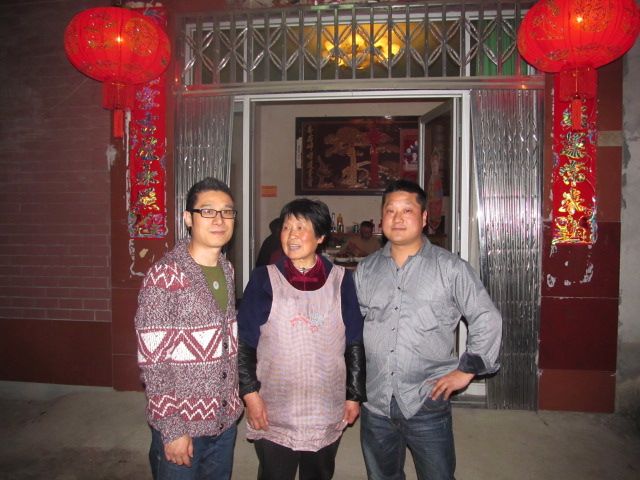 3. You will dread going home for holidays like Chinese New Year, when all of your husband's peers from school come over to visit – with their school-age children.
Unlike us, my husband's peers jumped on the baby bandwagon almost immediately into their marriages (including a friend whose wife was famously pregnant and showing at their wedding – a bridal bump I had the chance to witness with my own eyes).
So whenever Chinese New Year comes around, they come around to visit as well – with, well, their young and even school-age kids.
Actually, for the most part, his friends and peers don't give us pressure. It's their parents that do – parents who will compare us to John's peers and then pelt us with all sorts of uncomfortable questions or comments (usually of the "Why don't you have children" or "You're too old" variety) when they notice we have no little ones in tow. The whole situation completely strips all of that sepia-toned nostalgia from the idea of "home for the holidays".
We were able to dodge a lot of these questions this year, because most people were just glad to see us back in China. But next year? I don't really know what's going to happen. Deep down a part of me is secretly saying, "Help!"
 4. You'll feel isolated from your friends with kids – and instead gravitate to friendships with other people who "don't belong".
Don't get me wrong, we love our friends with kids. But sometimes being around them can feel a little uncomfortable, particularly when they – with well intentions – bring up the topic of us having kids. Sometimes we feel like we don't entirely belong to the same club, if you know what I mean. So of course, we inevitably gravitate to our other friends who feel as if they "don't belong" in Chinese society.
In particular, one of our best friends in China is Caroline, who happens to be what people call a "leftover woman." "Leftover women" and "leftover men" describe people of a certain age in China (over 27 for women, 30 for men) who haven't married yet. They also feel as out of step with China's society as we do, because it's just not normal in China for adults to be single.
We've always loved Caroline, our mutual friend who introduced the two of us years ago. But maybe we feel even closer to her because she's like the ultimate safe space where we can vent about the awkwardness of our situations – hers not being married, ours being childless.
I feel like I've come to understand Caroline's pain every time someone else pelts her with that unwelcome question: "Why aren't you married yet?" She's even shared with us some of her less-than-pleasant encounters with the question, encounters that make her angry and frustrated, and I feel her. Because to me, the question isn't all that different from "Why don't you have kids yet?" It's a question that also singles you out, that divides you from the world, that reminds you of something you lack or something that perhaps you even desire but cannot have.
The other night, she told John and me about this one ridiculous girl she used to work with ("ridiculous" was her description) who kept interrogating Caroline about things that could easily have been ripped from a list of the "10 most cringeworthy questions in China": Why aren't you married? Why don't you own an apartment? Why don't you have a car?
"What do you want to hear from me?" Caroline said to this girl (surely in a voice that was getting dangerously close to angry). "That I'm unable to find someone? That I have no money?" Somehow, just hearing about Caroline's courageous, "take no crap" response to this girl made the three of us erupt in a cathartic burst of laughter. In these moments, we always feel a little less alone and isolated.
 5. "Being married for 10 years with no kids and living in China" will become one of the scariest things you write about.
For the longest time, I never wanted to go public with this topic. It scares me because it's such a personal thing – and one that weighs on me on a regular basis (for many of the reasons I mentioned above). Why put it out there and risk having more people tell me either 1) You're too old for kids or 2) What's wrong with you?
But one of the things I've learned from my husband is the importance of self-acceptance. This is who I am – a woman who has been married to her Chinese husband for 10 years, lives in China, and has no children. Will I be like this forever? Honestly, I really don't know for a lot of reasons I can't share on this blog. But regardless, I must face my reality and embrace it – in all of its awkwardness. And for the moment, maybe that's enough.
What do you think?